Soba Canada
(Our logo is designed based on the cross section of the buckwheat kernel.)

Soba and Our Policy

Introduction
(1)"San-Tate" Policy
(2)Business we do
(3)How to eat Soba
(4)The Paradox of Canada
(5)French Paradox

---
Introduction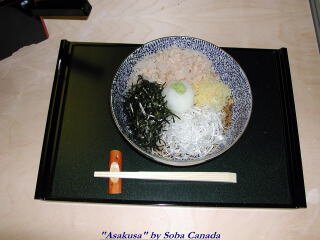 We are the first and only Japanese Buckwheat Noodle (Soba) Restaurant, Caterer and Retailer in GTA, Canada who offers a truely authentic Japanese Fresh Soba Noodle made from the buckwheat cultivated in Garland, Manitoba, Canada.
A simple word of "Soba" in Japanese means "Buckwheat". And the noodle made from buckwheat is also called as "Soba". Soba is delicious with mild flavour and rich aroma.
Those who have eaten Soba before would be able to draw some image of Soba itself and taste. But we would like to say quite simply that you should forget about previous image of Soba you might have unless you had it in a restaurant specializing in hand-made Soba (Teuchi Soba) in Japan. Soba that you know would be an industrially made dried soba or just hot-water-pouring instant product without having real taste and flavour of newly cropped buckwheat itself.
But that's not our type of Soba.

For your guidance, it is defined by old stipulation established in 1968 of "JAS" (Japanese Agriculutural Standard Act) that if the dried industrial Soba noodle contains buckwheat flour of any grade more than 30% of the total weight, it can be sold in the market with a name of Soba. Actually most of the dried Soba noodles are made and sold with buckwheat flour only with 30% or 40% at most because it is technically easy to manufacutre with a help of gluten of wheat flour which is a main ingredient for it and also is less expensive not using costly buckwheat flour. So in real meaning it should be understood as "Udon with buckwheat flavour added". As a result, you can't expect same health benefits as genuine fresh Soba.
We are a pioneer and only company who serve fresh natural Soba in Canada in this big buckwheat growing country. Ours are fresh and natural hand-made Soba based upon the safety of the materials we use. It's our wish to contribute to people's heath and happiness through our truely authentic hand-made fresh Soba
. Furthermore would like to extend it not only to the physical aspects but also to the mental and social aspects.


Return to the top of this page

---
(1) "San-Tate" Policy

If you want to eat Soba in its best condition, then you must insist "San-Tate Soba".
"San-Tate" is a Japanese compound word of San (means 3) and Tate (a suffix representing the condition of just done). It says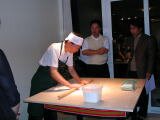 1)"Hiki-Tate" is just having been freshly ground into the flour"
2) "Uchi-Tate" is just having been freshly kneaded and cut into the noodle
3) "Yude-Tate" is just having been freshly boiled and made it ready for serving.

This "San-Tate" way of serving Soba gives you soba's best aroma, flavour and texture.
And now we have "Soba Tsuyu" which is the dipping sauce of Shoyu (the soy bean sauce) based mixture with special broth to dip the "Soba" in. As the aroma of "Soba" is so delicate, this "Soba Tsuyu" sauce should not assert itself excessively while maintaining its elegant flavour. Thus you can enjoy the superb harmony of "Soba" and "Tsuyu". Basically this "Tsuyu" is made from mainly broth of dried bonito in a very traditional way but we are also preparing pure Vegetarian "Tsuyu" separately (upon reservation). So complete vegetarians can also enjoy our Soba at ease. Generally speaking, Japanese cuisine especially Edo (Ancient name of Tokyo) style respects original natural character of the material itself and always uses the materials at the height of the their season. Happily Japan is surrounded by rich sea and blessed with high mountains and we can enjoy distinct four seasons.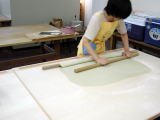 Every season brings us various tasty and gorgeous materials from the sea and the mountain also the north and the south. Japanese philosophy is to live with the nature in harmony. Instead of confronting and /or conquering the nature with power, we try to adapt ouselves to the order of the universe in which we live as one of the components. So in our recipe this philosophy also can be seen. Main target of the Japanese recipe is how to bring out subtle natural flavour, sometimes hidden, from the material. So Japanese taste at first could be too plain or light for the majority Canadians who get used to the taste of strong cheese and/or ketchup. But taste it well for a while and from the next moment it will surely brings you simple but delicate , deep and profound taste and joy.
Most crucial thing in serving Soba to the clients is the speed and the timing. So real soba eaters know this well and never wait to start eating when served. Every second you wait, you loose the value proportionately. It would not be so exaggerated to say that Soba is more delicate and sensitive than Sashimi (raw fish).

Manitoba is known as "Buckwheat Capital of Canada" which produces more than 70% of Canadian grown buckwheat. It should be free from any foreign materials like leaves, other grains or stones etc in order to be ranked as "Canada No. 1" grade with about 15% moisture content and stored in the grain elevators.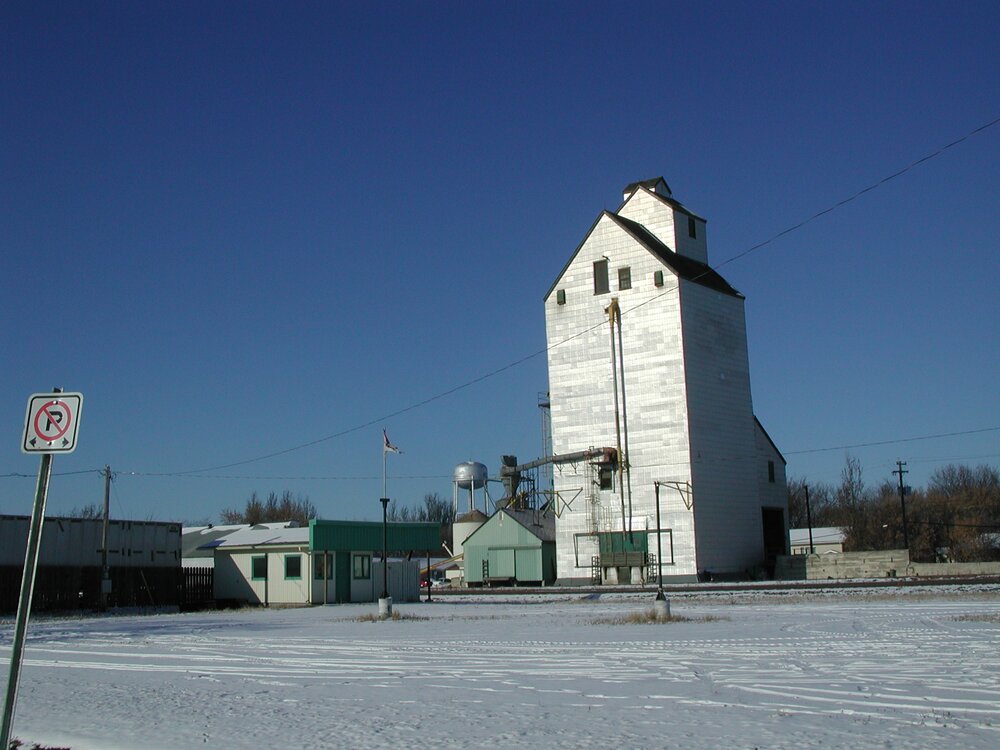 As Manitoba is such a cold place in winter, it is perfect for storage of various grains for a long period of time without suffering deterioration. With thick insultaion of bins even in summer time inside of the bins are said to be cold enough.
We use only finest new crops (Canada No.1 grade) of whole buckwheat harvested in Manitoba in late autumn. We clean and sort them out according to the kernel size again. Then vacuum pack it into bags of several sizes. Thus ready for storage in the freezer for hibernation. Fruits of the buckwheat even after reaping are still in full energy of germination. To put them in the freezer in vacuum packing for hibernation is the best way to keep buckwheat as fresh as possible avoiding possible deterioration such as oxidization. By this method we can guarantee Shin-soba's (New Crop's) quality for 365 days a year. So it could be said that our Soba is "Yon Tate"(Four Tate) adding Tori-Tate (Just Reaped) on top of San-Tate. Nobody, even a Maestro of Soba, cannot make excellent soba without using good buckwheat flour. It is said that 80% of soba's taste is determined by buckwheat's quality itself and only rest of 20% is subject to the various techniques of the Maestro though a bit too modest I feel. But it tells clearly how good buckwheat and its proper storage is so important.
Flour is very sensitive and different from whole buckwheat protected by its thick epicarp. Once you grind them into flour, most of the flavour/aroma will be lost surprisingly quick. Some study says that 50% of its volatiles such as Ethylbenzene and Xylene etc disappear within 15 minutes after grinding. And further 15 minutes are enough to loose another 20% of volatiles . So within 30 minutes, 70% of total flavour/aroma substances are dissipated. Thereafter change is said to be slow but 24 hours seem to be enough to loose nearly all flavour and aroma. It is possible to delay or stop the disappearance of volatiles by storing it in tightly closed container or vacuum packed in freezer, but it is indeed very difficult and costly to keep such condition well. It is our surprise to know such a delicate trait of buckwheat flour. So quality of flour is totally depending upon the good and quick care of the flour just after grinding. Flour sold in poor packaging like paper bag etc and stored in high ambient temperature cannot be maintained its original quality for serious consumers' usage.

Now you know the reason why we stick to "Hiki-Tate" just freshly ground flour only. For that pourpose we make our freshly ground Soba flour every morning by ourselves using stone mills brought from Japan only for the quantity required for a use of the day. There are several types of mill. For most millers they use high speed roll-milling machines with normally around 300 rpm. This machine is very efficient and high yielding but due to its mechanism and high speed, flour is tend to be burned dry and loose aroma/flavour with discoloration. So we use stone mills for best flour quality dispite of its low productivity. We operate our mills as slow as 16 rpm in order to avoid any heat damage. And different from the roll milling machine, the process of stone mill is not only to grind buckwheat into pieces but more importantly is its kneading function which cannot be expected in any other machines. Furthermore slow grinding doesn't overly destroy the cells which contain various nutritions, consequently it can give you good texture and flavour together with its health benefits. Thus only the flour made from stone mill with the professional care is the perfect much for hand-making Soba (Teuchi Soba) with its comfortably moist and gentle quality keeping its original trait. Immediately after having had fresh flour, Soba is made following to the most traditional Edo-Tokyo style method and cooked with proficiency.

You will find new world there. We do everything by ourselves from A to Z including milling which can be said "From the field to the table". We have various types of soba depending upon the flour ground. From a thick and blackish "Inaka Soba" ( Country style) to a refined thin and more whitier "Edo" style Soba with aroma . So please tell us which type of soba you like after trying our varieties of fresh Soba. You would be quite surprised by the difference what you would have known as Soba before.
In conclusion, the key for serving Soba is simple. Good care of the buckwheat through the year round and control the timing of the serving based upon clients' situation. Only fine management on both hard and soft ware can achieve this goal.
This is just a common theory for all businesses. We do just the right thing in right timing though sometimes it could be tiresome due to simple repetition of boring works and furthermore costly... However that's the Soba Canada way.
Only Soba Canada offers "San-Tate Soba" (or Yon-Tate Soba) in Canada for Canadians using buckwheat harvested in Canada.


Return to the top of this page

1)Soba Restaurant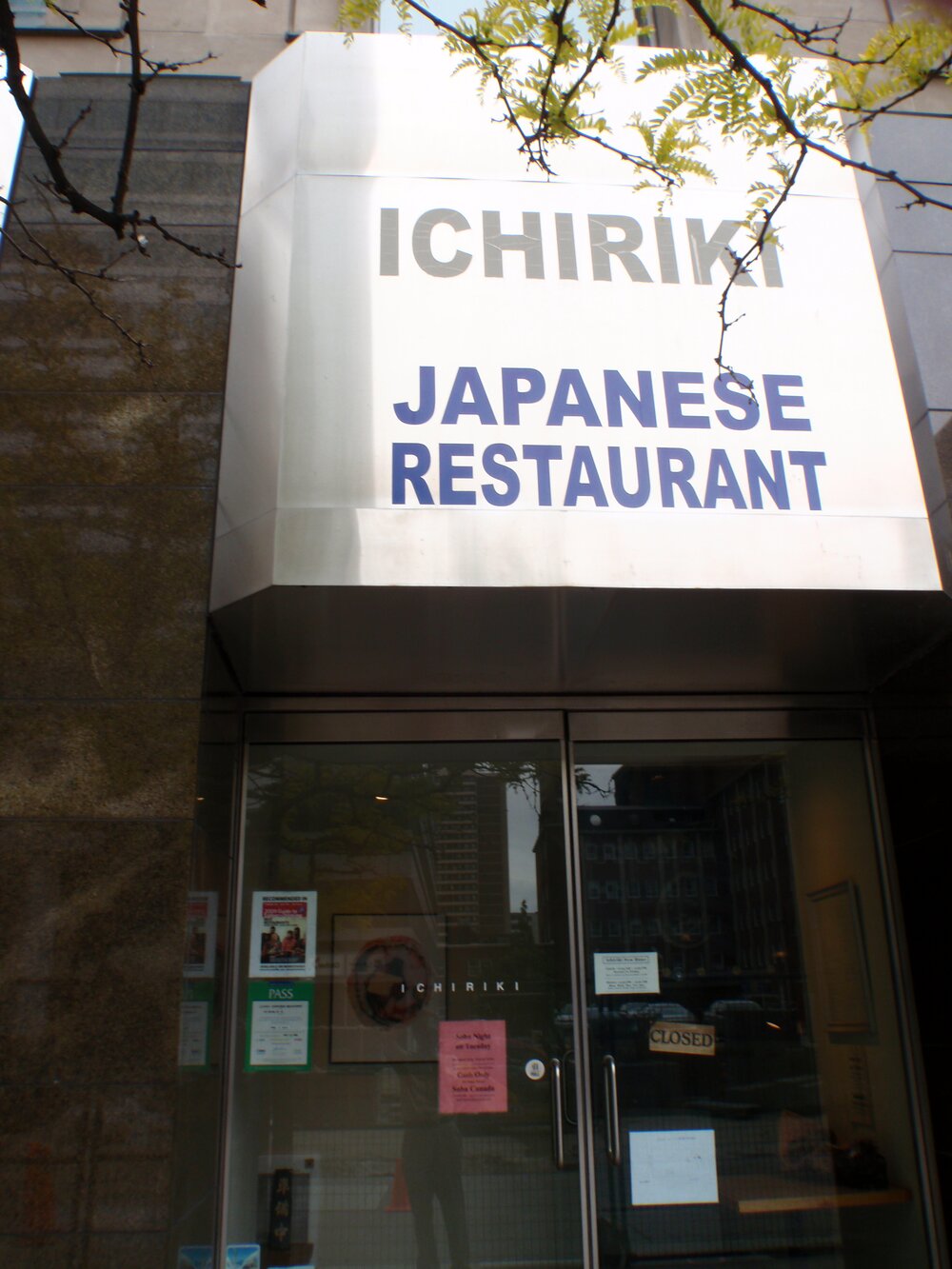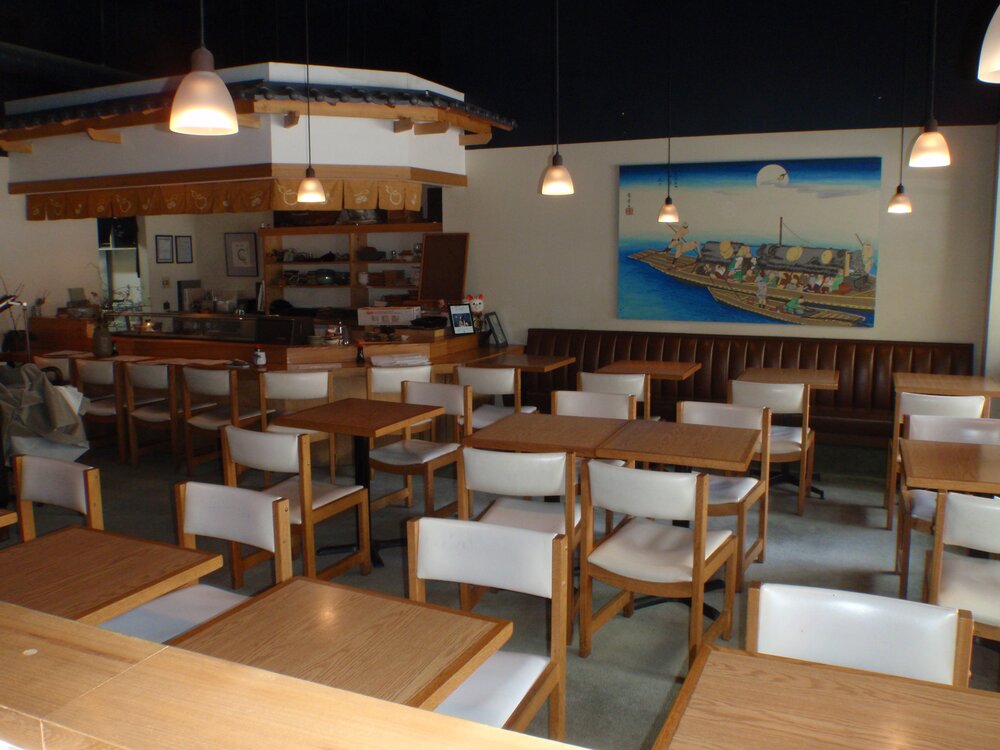 We operate "Soba Night on Tuesday" at Ichiriki Restaurant
which is one of the best Japanese Restaurant in Canada. Our operation is on every Tuesday from 17:00 to 20:30 / Urikire -Gomen (could be closed earlier in case of having been sold-out).
Location is in downtown Toronto at 120 Bloor Street East, Toronto (1 or 2 minutes east of Yonge/Bloor, next to HBC/Mariott, in IBM Bldg on north side). Come and try our popular TenZaru which is very traditional cold soba on bamboo plate and hot tempra) ... Of course, there are much more but except Sushi.
Reservation is recommended. Please call Ted to 416-436-7997.

2) Soba classes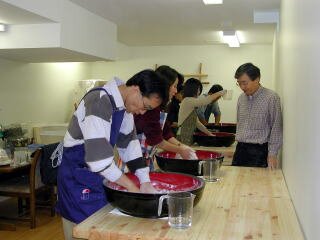 (Soba-Uchi-Dôjo)
for learning traditional Edo-Tokyo Style hand-making skills
The taste of "Soba" is totally depending upon how excellent Sobako (Flour) you can use. So even a Maestro can not make delicious Soba using bad sobako. As far as you are using our boastful Sobako which we stone-mill every morning, even you are a fledgling of Soba making, you can beat a Maestro with bad sobako. Sobako is so crucial in making "Soba". It may seem to be very difficult to hand-make the "Soba" but it actually is far easier than what you would be feeling. Of course to be a Maestro is so difficult, but to acquire the basic technique for hand-making "Soba" is not so difficult. Our method is traditional Edo-Tokyo Style. Edo-Tokyo Style is the most advanced and refined style of hand -making Soba in Japan. Because its pourpose is to make beautiful Soba as a merchandise for selling while other country styles are for self-consumption. So the taste, flavour, texture and the appearance is in the state of the art with standard width of the Edo style Soba is only 1.3mm while other country-styles are ranging from 2.0 to 3.5mm with darker color. This knife work of Edo's standard width is expressed as "Kiribera 23 bon" which means 23 cuts for 1 sun (=3.03cm).
Thus you can give a pleasant surprise to your family and friends serving your own hand-made "Soba" at home. I guarantee the taste because you are USING MY FRESHLY GROUND FLOUR from new crop of No.1 Canada grade Buckwheat with the best care. It's no comparison to the instant or the dried one.

We provide several classes according to your requirements. The classes are basically private so you can set up your convenient schedule and location at Mississauga but can be arranged anywhere.

š"One Day Experience Class" : $70.00+tax/person
For those who don't know anything about Soba making but an interest, this class would be the suitable one. We will demonstrate first, then you do it by yourself. You will make about 5 portions of Soba and take it back to your home. It normally takes 30 minutes for demonstration and 1 - 2 hours for Soba-making. Bring your apron and a container to take Soba back home.

š"The Beginners Class" : $325.00+tax/person
This is 5 days course to acquire the basic skills of Soba-Uchi and you could make your own soba without asking any help to the others at the end of the course.
You will make practices with 500g size which is about 5-6 portions. Please bring your notebook/apron/towel and container.

š"The Intermediate Class" :
After completing the Beginners Class, to acquire the refined skills of Soba-Uchi together with basic knowledge about Soba/Buckwheat. You will make practices 7 days with bigger size (1 - 1.5kgs) which will be the ideal size for quality and practical point of view. Popular NiHachi Soba would be your favourite repertoire. Please bring the notebook/apron/towel and container.

š"The Professional Class"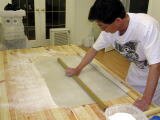 This class is for those who want to be a professional or to open up their own Soba Restaurant. The class consists from 20 days learning session together with lectures. You will study about Soba/buckwheat from various aspects. The schedule for the class will be upon consultation. Prices and other details available upon request. You will know all about Soba including milling technique at the end and can start creating your own style of Soba according to your philosophy.

š"Maintenance Class"
After finishing above classes you may feel the necessisty to come back sometimes to our Dôjo in order to maintain or brush up your acquired Soba-Uchi skills. You can use all necessary equipment and facility. Please call for the reservation.

3) "Shyucchou Teuchi Soba"
(Catering service of hand-made Soba) with on the spot performance (Soba-Uchi).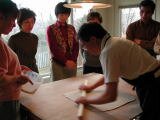 We go catering to anywhere with necessary equipments for Corporation's Events or Private Parties in some special occaisions in any size based upon reservation. In Japan, "Demae" (Catering) in the past was popular sytle of Soba delivery to your home or office and still is in certain area. But Soba dishes cannot maintain its best condition for eating after elapse of certain time for delivery to your home and it is surely exhausted out by loosing texture.
As our policy is to serve "San-Tate" soba which we discussed before, we definitely prefer to prepare and serve our Soba just on the spot of your special occasion in order to avoid offering remains of Soba-like-noodle. Upon having received your reservation, we will make contact with you for details what type of soba you would like to have and visit your designated place with necessary materials and equipments. We will demonstrate our performance Soba-Uchi in front of you first then start serving. It's fun and price is reasonable. Please ask for details.

4) Retail/Wholesale and Export & Import
*Flour, Groats and Grits
Sale of freshly ground Buckwheat Flour and other soba/health related items
We sell freshly ground Sobako (Flour) in 500g/1kg vacuum pack, whole buckwheat with its epicarp and/or de-hulled natural buckwheat (Maru-nuki or groats) together with other Soba/Health related goods. In case of Sobako, we may be able to comply to your request about spec of your own Sobako.
*Organic creamy natural Soy Milk
which is dense enough to make nice Tofu can be ordered. Of course we have natural Nigari coagulant(Sea water extract).
*Fresh soba
with minimum quantity of 5 portions with Tsuyu (dipping sauce). It will be helpful to have your order at least one day before the delivery.
*Premium Buckwheat Honey
made from our buckwheat field in Manitoba. It comes by 1kg pack with $15.50. Buckwheat honey is the darkest in colour amongst all honeys and have unique scent and this flavour brings us the strongest health benefits. At home we are replacing sugar to this buckwheat honey for a cup of coffee and enjoying toast with plenty buckwheat honey and also to all needs for cooking.
*Export of Buckwheat and import of soba uchi(soba making) equipments.

5) Consulting
Business consultation for opening your own restaurant or to re-float your spoilt business or for trading? We can help you for planning at any stage. Have you read our "Whey do we SOBA? Our basic way of thinking"? Not only restaurant business but any kind of business in North America which wishes to be a really nice company which earns not only money but also respect is welcome. We will help you how to make a bridge with your customors based upon true appreciation by Japanese traditional mind to think harmony internally and externally. @


Return to the top of this page

(3)How to eat Soba

It may be necessary to tell you how to eat soba. As the soba is a food backed up by a long history and tradition, sophisticated Edokko (people who live in Tokyo formerly called Edo) manners have been established. One of typical sophisticated way of eating Zaru or Seiro Soba (cold noodle) is as follows though there could be many other ways.
But one very important thing I want you to know is that Soba like other Japanese traditional cuisine is very simple and delicate. Japanese philosophy of cuisine is to respect and pay full attention to the original flavour of the materials we use. Sauce and garnishes etc. should be modest enough not to spoil the taste and flavour of the materials. In case of Soba, the taste and aroma of buckwheat is subtle and soft. So in order to taste and enjoy such gentle and delicate flavour of the material, you should rinse your tongue by fresh water before eating. It is recommended not to eat fatty, strong foods which might spoil your gustatory bud. Keeping away from junk foods preferably for one or two weeks, you could be ready for enjoying delicate foods with refreshed taste buds. It was said in the past that Canadians' favourite eating style could be described as "2B" which stands for Big and Bold. But as the society is getting old with baby boomers, this style is gradually being replaced by the words "Clearer", "Simpler" and "Flavourer" that mean the change from the Volume to the Quality (Authenticity). The Freshness is a key word in the era of Authentic Flavour and it would involve the idea of ‡@Protect Health ‡AImprove Health ‡BFreshly Made. That is our Teuchi Soba.

1) First of all pick up several lines of soba and eat it as it is in order to feel soba's own taste and aroma.
@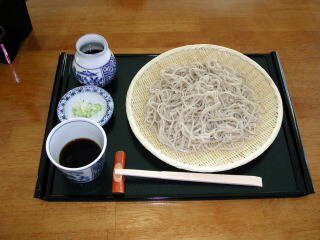 @@@@@@@@@@@@@@@@@@@@@2j Then pour Tsuyu a little bit into a Soba cup and hold up a Soba cup and pick up reasonable (smaller) amount of soba which may depend upon the size of your mouth, then dip it to the "Tsuyu" by still holding soba in the air with your chopsticks but only half way down. Don't soak the soba entirely to Tsuyu. And enjoy this simple combination of Soba and Tsuyu for a while.
We have various "Tsuyu" depending upon the dish and in case of Zaru Soba Tsuyu is very thick and strong(especialy Edo-Tokyo style) and not designed for soaking.
3) Thereafter put elegant portion of condiments such as Negi(minced long onion) into Soba-Choko(Soba cup) and put wasabi on top of Soba (Japanese horseradish) then dip reasonable portion of Soba same as step-2. Thus you can enjoy different taste with just one plate.
4)Suck soba with the slight sound of the air. I know slurping is deemed to be most rude according to the Western style table manner and also basically the same as in Japan. However in certain ocasion there are exceptions and in case of Soba this modest slurping is considered stylish especially eaten by good looking men and women. It's stylish and trendy and never be rude.
(For women even in Japan, it is observed less slurping than men because of general concept of slurping as vulgar under the influence of western culture. But only in case of noodle eating it is allowed and considered as smart. Of course it is not necessary to be wedded to this fashionable eating style and it's all upto you to eat at your own comfortable style. The world is changing and new culture is always come into bud in this way.)
5)At the end of eating Soba, pour Soba-Yu (Hot Soba Water) into the Tsuyu and drink. This Soba-Yu is fully nourishing and will sum up your soba eating of the day. Please enjoy.

Return to the top of this page


(4) The Paradox of Canada

As discussed above (1)"San-Tate Policy", Manitoba is known as "Buckwheat Capital of Canada" and produces more than 70% of total Canadian buckwheat. In 2004 Canada was ranked as 11 th country of world buckwheat producing countries with 10,000K/T while Japan produced 26,800K/T with 8th ranking. It is very regrettable to note decreasing Canadian production due to bad weather and/or market change in recent years. But whole situation could be changed and production would pick up again because of the introduction of the new variety of self-polination in shourt future. We are eagerly expecting such a totally new variety.
((In 2005 world first self-polinated variety called "Koma" appeared and took the mojority share for export to Japan. But several years later, there was big turbulence in the Canadian buckwheat industry which collapsed nearly whole export ..... I will be able to write something at later stage.)
Though we have sufficient buckwheat for local supply, it is very difficult to buy buckwheat (whole and/or flour or kasha) locally at supermarkets and it is impossible to enjoy authentic fresh Soba because no one is serving such noodle.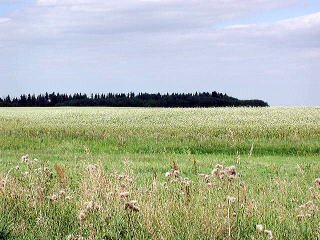 This is the really regrettable situation for Soba lover like myself. It reminded me of a famous Canadian Paradox. ie, Space and Silence, Abundance and Emptiness.
Despite of the abundance of buckwheat, Emptiness prevails in the Canadian market. If this is an act of God, I don't complain. But this is just a matter of human life style. Good thing have to be adopted and should be able to enjoy the life with more satisfaction. I want to eat authentic Soba everyday and to enjoy the life keeping good health eating nutritious and delicious Soba. Soba has a great possibility to contribute to our health at this modern world facing with the aging problem. And its easy digestion doesn't give any load to the stomach and its well balanced nutritious composition is ideal for the peoples in all ages ie, for the babies and children at the growth period and/or for pregnant women and of course for the seniors. In Japan since long time ago, monks who lead ascetic life in the mountain took only plants and vegetable. But in their practice of most severest asceticism, they highly relied on the buckwheat as their lifeline. Because it can be eaten as it is (raw) due to its digestive nature and well balanced nutritious ingredients will instantly give energy. To overcome the Canadian Paradox is the simple reason of my starting this business.


Return to the top of this page

(5)French Paradox

Have you ever heard another Paradox? This paradox became famous from a TV show broadcasted a decade ago. In France they eat lot of cheese, buttery sauces and other rich foods but suffer less heart disease than North Americans. Why? Recent newspaper says some Institute at the London School of Medicine found that "Polyphenols" contained in red wine decrease the endothelin-1 level which is a potent blood vessel constrictor and overproduction of the compound is considered a key reason why arteries clog with fatty deposits. Yes, the secret was "Polyphenols" contained in red wine. There are many studies on "Polyphenols" and still undergoing. University of Victor Segalen in Bordeaux, France seems to be a center of such study in France. Polyphenols have remarkable biological properties and help prevent, delay and even cure a number of diseases including cancer and AIDS etc. And furthermore it will rejuvenate your body together with skin. Marie Antoinette washed her face in red wine to protect against wrinkles.

It is an antioxidant components which includes flavonoids, anthocyamins and certain tannins and considered the most efficient active ingredient to neutralize free radicals which are damaging chemicals intermediates in the body. The recent study on Buckwheat also revealed this amazing Polyphenols called "Rutin" is rich in Buckwheat too. That's why "Soba" eaters in Japan enjoy longevity with good health. However even if "Red wine" is said to be good for the health, we should not forget that it is the matter of balance. It is also true that French ratio dying by stomack or liver disease is much much higher than other Erupeans/North Americans. Thus lowering their average life span than others. Over drinking of their Wine will be the main reason of this tendency. So we should know that relying upon only one thing or over intake will not contribute to our health and may even affect adversely because the universe is standing on the balance.


Return to the top of this page



Return to the Index Page
About buckwheat (Soba), Soba & Health/Safety of foods, Japan Nowadays, Various Recipes of Buckwheat,
Contact Us, Links to other site